Melissa Borgmann-Kiemde and Francois Kiemde — La Boulangerie Marguerite
Laura Michaels Oct 4, 2021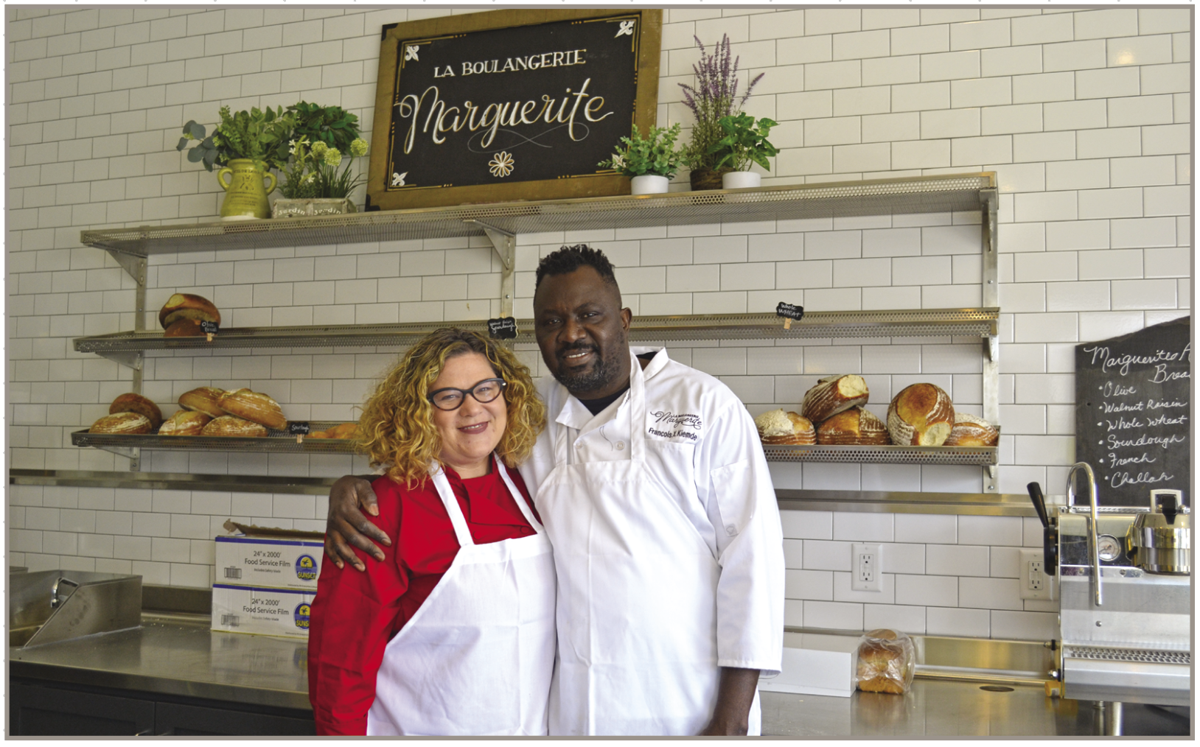 When Melissa Borgmann-Kiemde met the man who would later become her husband, "he introduced himself as a baker and a lover," she recalls, laughing. Neither knew it at the time, but that phrase would reemerge years later in the form of their company name, Baker & Lover Inc., when in 2017 they purchased neighborhood bakery PJ Murphy's at the corner of Randolph Avenue and Syndicate Street in St. Paul, near Highland Park.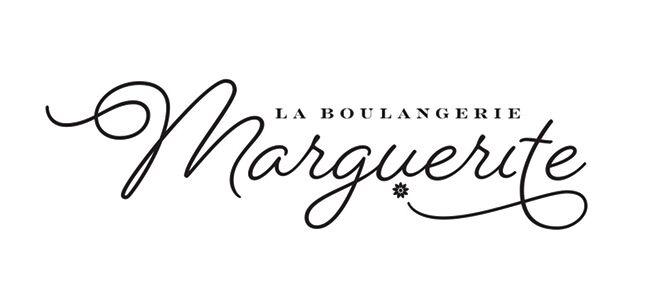 Sitting outside the bakery—which in early 2021 they rebranded La Boulangerie Marguerite to add more French flair and tie in the name of their daughter, Marguerite—Francois Kiemde recounts his journey from growing up in the West African country of Burkina Faso to becoming a chef and owner of his own business.
"I came to this country for a better life, like every immigrant," Francois says. While he graduated with a master's degree in sociology from the University of Ouagadougou in Burkina Faso, the dearth of employment options prompted him to move to New York City in 1996. He got a job washing dishes at Le Relais, a restaurant on Madison Avenue.
"Eventually I stepped in to learn desserts and pastry," Francois says, adding later, "I didn't want to go back to the dishes." An opening at TriBakery, owned by New York restaurateur Drew Nieporent and with investors including actors Robert De Niro and Bill Murray, next gave Francois experience in a retail and high-volume production bakery.
"I started baking there and learned all the different roles," including business operations and running production, Francois says. "I was made supervisor within six months."
Seeing his potential, Nieporent offered to send Francois to culinary school, and he graduated from the French Culinary Institute, an experience he says affirmed his love for bread and pastries. Fast forward several years, and a drive home from visiting Melissa's parents turned into a discussion about buying a bakery.
"We briefly looked at Panera, but with a franchise they don't allow you to be creative," says Francois. "I love to be creative."
Rather than start from scratch, the two decided if they could find an established bakery to take over, they could eventually mold it into their dream business. Melissa, who for years lived just three blocks away from PJ Murphy's, knew the perfect spot. "I decided to Google it and it was actually for sale," she says of the bakery that's transitioned to different family owners since 1921 and most recently was run by wife-and-husband team Michelle and Joel Lemanski and their business partner, Paul Beauchamp, who bought it in 1993.
"We didn't have any money but we traded our rental property for the business," quips Francois.
Recognizing the neighborhood's attachment to PJ Murphy's—especially its apple fritter—the Kiemdes wanted to maintain the bakery's legacy but "slowly we're putting our imprint on the place," says Francois.
"This bakery has been around so long, and we're the new owners but if it's too different … we wanted to have the return clientele and bring some new items a little at a time," he continues.
Francois started with French croissants—"I'm a French pastry chef, and this is how we define French pastry."—and later added items such as macarons and sourdough boules while elevating the bakery's donut game.
"We didn't take away the old, but people who have been coming here for years, they're drifting to the new stuff," says Francois.
They're introducing more savory items, including a spinach feta walnut croissant, which Melissa describes as "encompassing both a global experience and one of our core values of community." While Francois rolls out a fresh sheet of dough and explains the importance of dusting off the excess flour to achieve the perfect flaky layers, Melissa says she was traveling in Amsterdam when she tried a version of the savory croissant and brought the idea home. Francois worked out the recipe and they sought feedback from their staff.
"We invite them into the inspiration of how we create the product and then that helps them on the front end" selling to customers, says Francois. "Once they taste it, they can better tell the story." A potato leek croissant is in the works next.
The Kiemdes purchased the now 100-year-old bakery building in 2019, two years after acquiring the business, and as part of the rebrand to La Boulangerie Marguerite renovated the retail storefront. And, because La Boulangerie Marguerite is also a wholesale production bakery supplying breads, buns and other items to grocery stores, restaurants and event venues, they made some equipment upgrades including a stone hearth Pavailler oven with steam injection to achieve the perfect crusty French bread.
La Boulangerie Marguerite "is a miracle for us," says Melissa as she talks about its evolution and their opportunity to be stewards of its legacy while incorporating some French flair.
Spinach Feta Walnut Croissant
Croissant Dough
48 oz unbleached flour 
7 oz granulated sugar
8.5 oz whole milk
8.5 oz water
1 oz salt
2 oz yeast
32 oz butter
Mix at low speed for 15 minutes. Cut into 6-pound rounds and refrigerate overnight.
Spinach Feta Filling
16 oz spinach, drained
8 oz feta cheese, scrambled
1 oz onion, thinly chopped
0.5 oz garlic, diced
0.5 oz ground pepper
0.5 oz fine sea salt
2 oz olive oil
3 oz walnut, half and pieces
Mix all ingredients and spread over croissant dough. Roll and cut into 1.5-inch pieces. Proof, egg wash and bake at 400 degrees F for 15-17 minutes.